Mariage et Élopements
How do we celebrate fifteen years in business?
By having our best summer ever, naturally. And then what? We retire! Yup. The house is on the market either as a private residence or a turn-key bed and breakfast. It's time to pass the torch and spend more time with family. After all the years with wonderful guests, cute children and pets, creative groups and glorious views, it will be hard to leave. We hope nice people who treasure the natural bounties of the Newfound Lake Region will find as much joy as we have.
We will continute to host elopements through Columbus Day, but no more big weddings at Coppertoppe.
Below is part of the real estate listing. It has pictures, a virtual tour, and drone footage. You can see MORE pictures on our Facebook page https://www.facebook.com/Coppertoppe-Inn-and-Retreat-Center-135533896468503/?ref=bookmarks and learn about the business on our website https://www.coppertoppe.com/en-us. We are having our first real estate open house on Sunday, July 28, 2019, Granite Group can schedule a private showing.
Rare Hebron offering. Coppertoppe Inn and Retreat Center (www.coppertoppe.com) is known as the perfect respite for family and friends. This large home offers great space for those looking to stretch out and enjoy life! Wake up to stunning views of Newfound Lake and the mountains from this private location on 15 acres with organic gardens, lawn, and pond. Love the lake? Splash and bask at the residents-only Hebron Town Beach with a pavilion, picnic tables, grills, and over 400 ft of sugar sand frontage on Pristine Newfound Lake! This eco-friendly, modern home offers a chef's kitchen with commercial appliances and sinks. The open-concept dining and living room is spacious and airy with glass sliders providing full views and access to a balcony. Separate walk-in pantry and cleaning closets have ample storage for year-round hospitality and holiday feasts. The first-floor two-room suite has ample space for a private family room. The second-floor enormous master suite has a walk-in closet and a second room that can be used as a closet, nursery or office. The master bath is one to behold with open-concept walk-in shower, whirlpool tub, two sinks and full views of the lake. The other two bedrooms have marble and tile bathrooms with walk-in showers, sliders to a balcony, and stunning views of the lake. The walk-out ground-floor is finished with picture windows and contains a library/family room, double office, private bonus room, 3/4 bath, and laundry/storage room. This unique property has been a bed and breakfast for 15 years but retains its homey comfort. If you want a new adventure with a seasonal income or a family compound vacation home, this is an opportunity to experience Newfound Lake at its best.
http://www.newfoundrealestate.com/showcaseproperty27 and here is the YouTube link to a virtual tour with the drone footage included. https://youtu.be/eUwt0WjtBQ0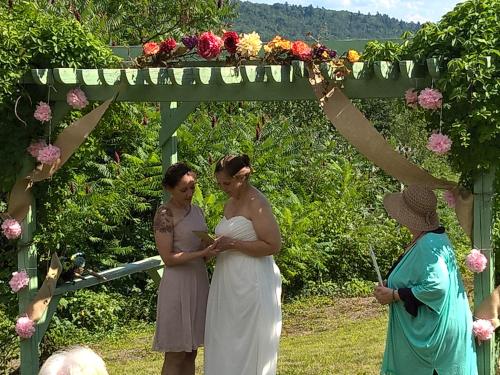 Félicitations pour votre heureuse décision, et merci de votre intérêt pour Coppertoppe pour votre célébration de l'amour et de l'engagement. Nous serions honorés d'accueillir votre événement le plus spécial!

Chaque mariage est unique et nous n'organisons qu'un événement à la fois, vous pouvez donc avoir tout ce que vous voulez. Nous travaillons avec vous et votre équipe pour concevoir et mettre en place l'expérience d'une vie.

Que vous souhaitiez une escapade pour deux (voir notre promotion) ou un mariage de jardin pour plus de 100 ans avec une tente ou une réception de mariage rustique, votre vision peut être remplie avec une planification minutieuse et un encadrement expérimenté. Wedding planner JP et les services de styliste sont disponibles ou vous pouvez engager le vôtre. Les couples qui travaillent avec des planificateurs de mariage professionnels bénéficient d'une réduction spéciale. Nous aidons à rendre votre planification facile et fait partie du plaisir. Envoyez un courriel ou appelez pour une feuille de travail de mariage et pour organiser une tournée et de consulter.

Coppertoppe est le cadre idéal pour votre cérémonie et réception, avec des hectares de jardins, de champs et de bois, une vue sur l'étang et le lac. La pelouse et la tonnelle surplombant le lac Newfound et les montagnes environnantes offrent une abondance de vues panoramiques, de chants d'oiseaux et de fleurs. Vous pouvez héberger votre réception dans une tente blanche classique ou faire trois miles à une grange historique sur une belle ferme avec un beau cheval (la grange ne sent que du foin).