Vivimos en armonía con los animales y la vida silvestre.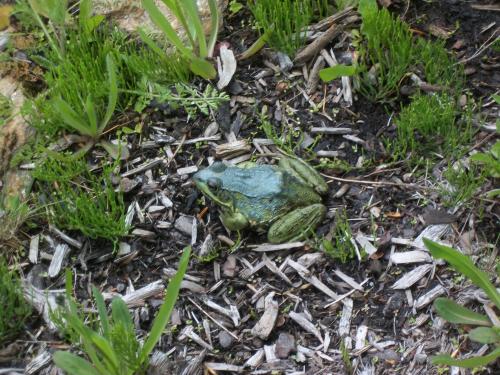 We appreciate all forms of life and do our best to share the planet in harmony and fairness. We warmly welcome pets and have hosted many dogs of varied breeds and sizes. We have also hosted a few cats, rabbits, and a parrot named Pepper. We will consider any pets who are properly contained and cared for. Although we do not have a kennel, barn or stable, we will help you seek friendly facilities nearby if you need them. Many state parks and town forests in New Hampshire welcome dogs on-leash and a few places are safe for hiking or swimming off-leash.
Our open areas are not fenced, but we are about a half-mile up a private road/driveway, so there is little traffic. The driveway, lawns, field and woods are available for playing and exploring. Our big pond is filled by outflow from our artesian well and the water filters down through steps of sod and sand so it is exquisitely clean and pure. Dogs and kids enjoy chasing frogs and tennis balls at the pond. If they jump in and get wet, they do not get stinky. We provide towels.
The Newfound Lake region abounds in wildlife, birds, butterflies and native or naturalized plants. The Coppertoppe property is abutted by acres of wetlands, ponds, woods and protected streams. Guests have an opportunity to enjoy the environment and critters pursuing their life, liberty and happiness in a natural setting. We cannot guarantee wildlife sightings, but anything is possible. We garden for the birds, bees and butterflies (and consequently the deer, moose, squirrels, etc.). The hummingbird feeder has constant traffic in summer, and the pond brings everything in winter. The nearby Audubon preserve has a naturalist and canoe/kayak rentals so birds and water birds can be observed. There are many great birding places in our region, as well as habitats for rare flowers and mushrooms. For safe contact with native animals, the Squam Lake Natural Science Center houses rescued or habituated animals who cannot be released to the wild. The science center also has an excellent indoor exhibit and fun educational programs. Visit our 
Location page
 to learn more about things to do and natural resources in central New Hampshire.
We are avid environmentalists and contiually improve our sustainable practices. We do not use chemical pesticides or fertilizers on our gardens or lawns. We require employees and vendors to read and sign our sustainability policy statement. We grow our own herbs and purchase naturally-raised foods as much as possible. To learn more about sustainable lodging programs, organic gardening and fresh cooking, contact us and ask for Sheila.