Eventos especiales
How do we celebrate fifteen years in business?
By having our best summer ever, naturally. And then what? We retire! Yup. The house is on the market either as a private residence or a turn-key bed and breakfast. It's time to pass the torch and spend more time with family. After all the years with wonderful guests, cute children and pets, creative groups and glorious views, it will be hard to leave. We hope nice people who treasure the natural bounties of the Newfound Lake Region will find as much joy as we have.
Below is part of the real estate listing. It has pictures, a virtual tour, and drone footage. You can see MORE pictures on our Facebook page https://www.facebook.com/Coppertoppe-Inn-and-Retreat-Center-135533896468503/?ref=bookmarks and learn about the business on our website https://www.coppertoppe.com/en-us. We are having our first real estate open house on Sunday, July 28, 2019, Granite Group can schedule a private showing.
Rare Hebron offering. Coppertoppe Inn and Retreat Center (www.coppertoppe.com) is known as the perfect respite for family and friends. This large home offers great space for those looking to stretch out and enjoy life! Wake up to stunning views of Newfound Lake and the mountains from this private location on 15 acres with organic gardens, lawn, and pond. Love the lake? Splash and bask at the residents-only Hebron Town Beach with a pavilion, picnic tables, grills, and over 400 ft of sugar sand frontage on Pristine Newfound Lake! This eco-friendly, modern home offers a chef's kitchen with commercial appliances and sinks. The open-concept dining and living room is spacious and airy with glass sliders providing full views and access to a balcony. Separate walk-in pantry and cleaning closets have ample storage for year-round hospitality and holiday feasts. The first-floor two-room suite has ample space for a private family room. The second-floor enormous master suite has a walk-in closet and a second room that can be used as a closet, nursery or office. The master bath is one to behold with open-concept walk-in shower, whirlpool tub, two sinks and full views of the lake. The other two bedrooms have marble and tile bathrooms with walk-in showers, sliders to a balcony, and stunning views of the lake. The walk-out ground-floor is finished with picture windows and contains a library/family room, double office, private bonus room, 3/4 bath, and laundry/storage room. This unique property has been a bed and breakfast for 15 years but retains its homey comfort. If you want a new adventure with a seasonal income or a family compound vacation home, this is an opportunity to experience Newfound Lake at its best.
http://www.newfoundrealestate.com/showcaseproperty27 and here is the YouTube link to a virtual tour with the drone footage included. https://youtu.be/eUwt0WjtBQ0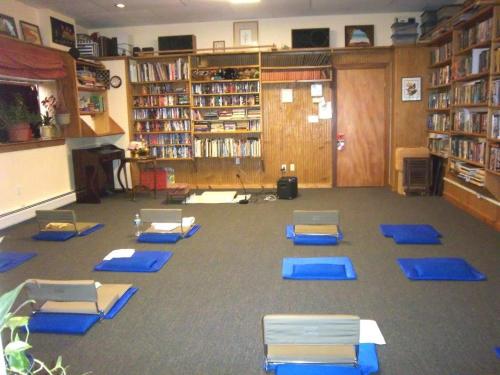 Coppertoppe se ha convertido en un refugio popular para quilters, escritores, artistas, músicos (pregunte por nuestro estudio de grabación), sanadores, practicantes de yoga y grupos de iglesias. Apoyamos y fomentamos actividades y talleres creativos y de bienestar. Disfrutamos tener una casa llena de jóvenes felices y líderes que trabajan por un mundo mejor, y su alegre ruido es alentador y edificante.

Coppertoppe es el escenario perfecto para su ceremonia y / o recepción, con acres de jardines, campos y bosques con estanques y fuentes. El césped y el cenador con vistas al lago Newfound y las montañas circundantes ofrecen una gran cantidad de vistas panorámicas, canto de los pájaros y flores.

En Coppertoppe, solo hospedamos un evento a la vez. Para garantizar el uso exclusivo de la instalación, debe reservar toda la casa para alojamiento durante al menos una noche de noviembre a mayo y dos noches de junio a octubre. Tendrás toda nuestra atención y el uso exclusivo de la propiedad.
Ejemplos de talleres pasados:
Sombreros de tapete y Bonitos sombreros. Taller de decoración de sombreros y espectáculo de troncos Inspiraciones divinas. Encuentra tu look divertido y exprésate con la decoración de sombreros, joyas, complementos y técnicas de equilibrio. Lleve un sombrero y ostentación o compre suministros en el taller.

The Great Escape Writers Workshop Alojamiento de fin de semana por género en B & B cercanos con grupos y ejercicios de grupo, luego reuniones de todos para seminarios y talleres con autores, editores y / o editores publicados.

Fin de semana de taller de fotografía . ¡La naturaleza no tiene derechos de autor! Los participantes trabajaron en composición, iluminación, cultivo y edición, compartieron caminatas guiadas en la prístina región de Newfound Lake, y disfrutaron de una presentación y taller con un fotógrafo publicado.

Fin de semana de taller de planificación de bodas ¿Quieres casarte CUANDO? Necesitas una ceremonia, votos, agenda, lista de música y más. Aprende y hazlo mientras compartes tiempo juntos con tu familia, amigos y amigos que pueden ayudar.

Si está buscando un retiro, un taller o un seminario planificado previamente con un líder experimentado, ofrecemos muchas opciones. Contamos con una extensa red de líderes, instructores, oradores y entrenadores con talento y experiencia. Hay muchos más temas disponibles de los que podemos enumerar, pero puedes ver algunos ejemplos en nuestra página de retiros. Tenemos una base de datos de líderes de retiro experimentados y talentosos que cubren casi cualquier tema que usted pueda nombrar. Eliges el tema y traes al grupo, y nosotros nos ocupamos de todo lo demás. Es posible que haya oído hablar de las tiendas de construir un oso … considere esta su compilación de construir un retiro.

Si está listo para elegir fechas y hablar con nosotros sobre su evento, consulte nuestro Libro ¡Ahora! página.