Group Retreats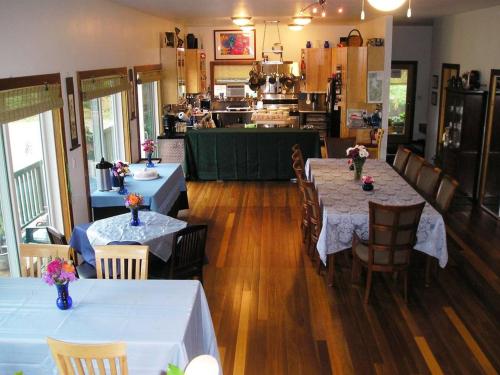 Upcoming Retreat Weekends!

Living Courageously: A Brave Path to Rising Strong (The Daring Way™)
October 26 - 28, 2018
Idyllic White Mountain Location!
Freshly prepared meals & snacks
Several bathrooms for participants
Several shared bedrooms for participants
Limited to 16 participants
Commuter rates available
Deposit Due by September 1, 2018
Full amount due by September 26, 2018
What's a Living Courageously Weekend Retreat anyway, Jess?
The Daring Way™ is a highly experiential methodology based on the research of Dr. Brené Brown. The method was designed for work with individuals, couples, families, work teams and organizational leaders. During this amazing weekend, we explore topics such as vulnerability, courage, shame and worthiness. We examine the thoughts, emotions and behaviors that are holding us back and we identify the new choices and practices that will move us toward more authentic and wholehearted living. The primary focus is on developing shame resilience skills and developing daily practices that transform the way we live, love, parent and lead.
We've brought this amazing weekend to a retreat-style setting in order to more fully immerse participants in the work. We find that leaving your normal environment and allowing yourself to connect fully with nature, peace, and each other serves to enhance our Daring Way™ work.
This is the info page for the retreats: https://www.jessicafoley.com/the-daring-way/
And this is the sign-up page: https://www.jessicafoley.com/the-daring-way/daring-way-intake-form/
Enjoy privacy, inspiration and comfort.
Coppertoppe, overlooking pristine Newfound Lake, is situated on 15 acres with gardens, ponds, fountains, fields and woodlands. Spectacular views of the lake and mountains, varied indoor and outdoor spaces and quiet solitude invite enlightenment and serenity. Coppertoppe is off the beaten path, providing personal and group privacy.
The décor of each room is unique, with comfortable beds, luxury linens, your choice of synthetic or fluffy down pillows from DownLite, warmed towels, comfortable reading chairs with good light, and a desk with Wi-Fi and a broadband Internet port.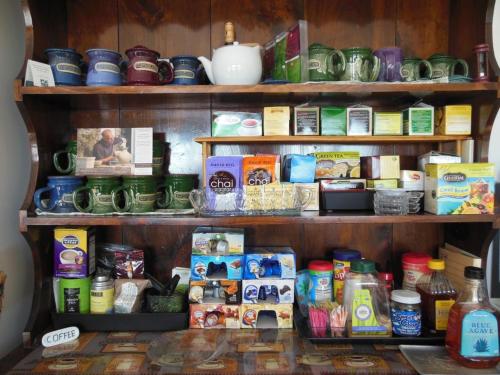 We offer a variety of dining options, including vegetarian, vegan, and Kosher meals. We happily cater to any special food needs such as gluten-free, allergies or particular diets. Each room has a fridge so you can also bring your own special treats or necessities. Visit our Packages and Specials page or email Sheila for more options and to learn about seasonal Innkeeper Specials.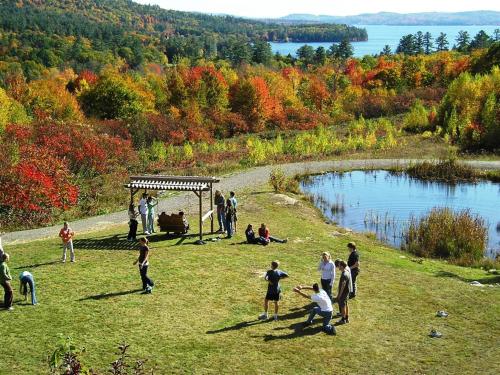 Retreat Planning Made Easy. Retreat planners too often spend more time attending to details than relating to their participants. We make planning easy with our logical PALACE system. You create your focus and agenda, and we take care of the rest of the details. If you are new to planning, we have models and templates to help you get started. We are happy to provide references from former guest quilters, church groups, youth groups, college groups, faculties, musicians, writers and reunion groups. See our Packages page for more ideas and opportunities.

Meals are customized. We plan your menu according to the preferences and needs you give us. Vegetarian, vegan, kosher and allergen-free options are available. We work with you to develop a menu that meets all attendees? needs and supports the spirit of your gathering. Home-grown, local and organic products are used when possible.

Individual retreats are welcome. We host writers, artists, musicians, Reiki vision quests, healers, historians and persons seeking serenity and solace from life?s troubles. Each room has a fridge and meals can be provided so you have as much privacy as you want. When you want to talk, we are ready to listen.

Established groups are welcome. If you have a group and a leader, we will provide lodging, meals and any accessories you need. For larger groups, we may cooperate with neighboring inns or B&Bs to accommodate everyone in comfort. We work with you to enhance the experience for both participants and organizers. We will arrange for or give you information about activities in the area.

Reunion groups are welcome. Whether you are planning a family reunion, class reunion, hobby club or craft retreat, you will appreciate our personal service and attention to detail. If you want to plan activities, we can arrange guides for genealogy lessons, oral history recording, ethical will drafting, scrap-booking, converting photos to DVD or any number of skills. If you are a craft group, we can connect you with a variety of instructors and vendors.

If you are seeking a pre-planned retreat, workshop or seminar with an experienced leader, we offer many options. We have an extensive network of talented, experienced leaders, trainers, speakers and coaches. Many more topics are available than we can list here.
Examples of past groups and retreats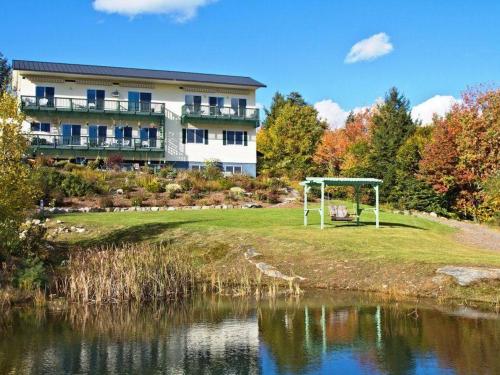 White Mountain Sangha held a 3-day silent retreat with Norman Scrimshaw and Margaret Fletcher. Participants experienced the beauty of silence in a tranquil setting overlooking Newfound Lake while joining White Mountain Sangha teachers for an intimate 3 days of silent meditation and inquiry into the truth of what they are.

Empowerment Coppertoppe conducted a weekend of Empowerment & Enlightenment including Tarot and Dream Analysis classes with Sheila Oranch and Leigh Grace. Day commuters as well as lodging participants were welcome.

Time Management We were honored to host Pam Kristan presenting a Sustainable Time Management workshops weekend as our first open retreat of the New Year.

Quilters? Delight With savvy arrangment of tables, comfy chairs, fridge and dowels for design walls, our creative quilter guests happily have up to 14 people stitching away for days.

Mind-Body Renewal T?ai Chi or Yoga may be practiced at guests? convenience. All will be welcome to join in, or to do their own programs. Guests may reserve classes in advance with outstanding local teachers or bring their own guides and groups.

The following retreats & workshops may be booked by any group of ten or more participants:

Relationships Retreat. Deeper work on relationships of any kind: yourself, partner, family, friends, employers, colleagues, individuals current or past, real or hoped for. Outdoor activities, spa services and cultural resources are available.

omance Rescue (singles and couples coaching). Learn and share how to keep romance alive in your own heart and with a partner. Exercises, journaling and discussions with a small group are included.

Women?s Retreat. Focus on celebrating womanhood, ancient/historic traditions, learning ways to express and integrate your pride and joy with your relationships and jobs. Weekend or Day registrations available. Subject to limited availability.

The Great Escape Writers Workshop Weekend lodging by genre in nearby B&Bs with break-out groups and exercises, then gatherings of all together for seminars and workshops with published authors, editors and/or publishers.

Boston Marathon Escape Retreat (a long weekend with late check-out Monday). Relax in a serene, natural setting with optional discussions and workshops on wellness with low-impact, fun activities. Dance lessons, kayak and canoe paddles, gentle hikes, T?ai Chi, yoga and strolling available.

Photography Workshop Weekend. Nature holds no copyrights! Work on composition, lighting, cropping and editing. Share guided wanders in pristine Newfound Lake region. Enjoy a presentation and workshop with a published photographer.

Wedding Planning Workshop Weekend You want to get married WHEN? You need a ceremony, vows, agenda, music list and more. Learn and get it done while sharing together-time with your intended, family and friends who can help.

Wedding Warm-up Weekend. You?ve got the place and time, so now what? Don?t let stress or nerves spoil your special day. Make sure it will be fun with dance lessons, coaching in wedding protocol and Toasts. Couples massage lessons, and other activities may be arranged to help you sustain the romance for the lifetime after the wedding.

Music Recording Musicians are invited to practice or jam with others, and recording services may be arranged in advance (special packages available). The first Coppertoppe album, entitled ?As Sweet As It Is,? was recorded September 2007. Contact Sheila about a demo disk and to arrange for a tour.

Don?t see what you want yet? Well, in an infinite universe it would be hard to cover all the options. We have a database of talented, experienced retreat leaders covering almost any subject you can name. You pick the topic and bring the group, and we?ll take care of everything else. You may have heard about the build-a-bear shops?consider this your build-a-retreat shoppe.

Let?s talk. Contact Sheila for more ideas, and check our Book Now! page for basic pricing and availability.