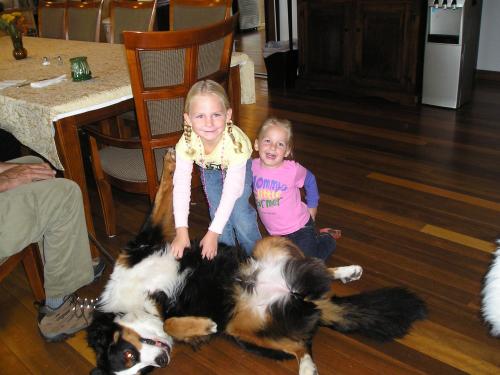 Pets are always welcome. Dogs of all breeds are welcome. We provide beds, dishes, toys and treats. We will cook for special pet diets. We have hosted dogs, cats, rabbits, ferrets and parrots. Bring the whole family. You should not have to leave a loved one at home. We trust that all veterinary requirements are up-to-date, and that pets are well socialized and groomed. If your pet has special needs, please let us know.
Off-leash areas are not fenced. Our driveway is almost a half-mile long with plenty of places to sniff and mark. Nearby hiking trails permit dogs on-leash.
Dogs who love to swim have their own pool! Our pond is clean because it is filled by overflow from our pure artesian well and filters through natural sand and gravel. We do not use pesticides or fertilizers on our lawn (hence the healthy frog population). We keep a supply of towels for dogs in the front hall along with a water dish, non-pressuriized tennis balls, toys and natural dog treats.
If your fur-baby is comfortable with us, we are happy to puppy-sit while you go out to dinner or attend that wedding or special event. We have soft laps and are very good at scritches.
People sometimes ask if we accept big dogs or all breeds. One week we had a tri-color Collie, an 11 month old Newfoundland, and a 6 month old St. Bernard one after the other. We have hosted numerous lovable Pit Bulls, leaning great Danes, lumbering Labs, and adorable mutts. If the humans are relaxed and cooperative, the dogs blend right in. We love them all. Packages may be arranged to include:
Training with White Mountain College for Pets
Doggy Day Care at Ebony Kennels
Nutrition Assistance and Cooking Classes
Special Pet Meals (based on your instructions)