Check our Retreats page for upcoming dates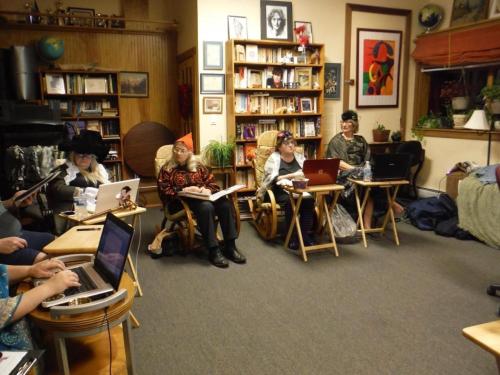 A retreat is a getaway with a purpose. It can be as brief as a weekend or an extended period. We have hosted a writer finishing a screen play, writers groups, artists, quilters, scrappers, hookers, yogis and so many more. We offer peace, privacy and TLC.

Take time away from the whirlwind of tasks and obligations. A personal retreat or small group getaway may be just what you need to refresh and renew. Whether a Reiki vision quest, art retreat or quilting intensive, we will support and care for you.

As well as bed, breakfast and catered meals, we offer meeting or work space, full amenities and much of the equipment/supplies you may need. The Library is sound-proof as it was designed as a music recording space. The floor is high-density indoor-outdoor carpent with extra padding underneath. It is wonderful for Yoga, T'ai Chi or floor play. Our regular quilting guests set up 14 stations and yoga classes up to 25 have been comfortable. You can also circle the comfy chairs and big floor pillows for informal discussions. Whatever layout you need, we will accommodate.

The guest rooms, dining room and Library have fridges so you can stock snacks or supplies beyond what we already provide.

Outdoor spaces for yoga, writing, music or smaller discussions are plentiful on-site with choices of sunshine or shade. Paradise Point Audubon Center is about a mile from our door including the long driveway. Boat rentals are available in summer. Other natural wonders include Sculptured Rocks geological site and hiking trails at Little and Big Sugarloaf mountains by Wellington State Park. 

Each retreat is customized and priced to meet your needs and your budget. Contact sheila@coppertoppe.com to learn more about our resources and upcoming retreats.
What is your creative passion?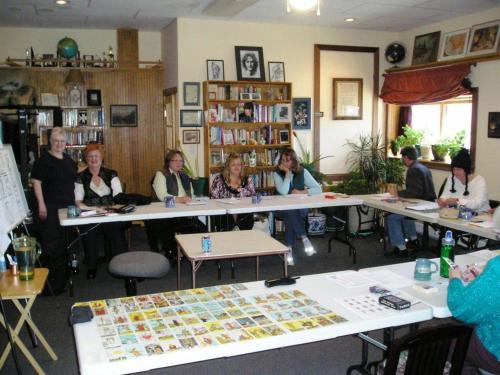 Quilting, Scrapping, Beading, Hooking, Writing, Tarot, Dowsing, Yoga, Healing, Birding... whatever creative activity you share with a group will be welcome at Coppertoppe.
The sleeping capacity depends on how you share rooms. You decide.
The menu is based on your individual preferences and needs.
The set-up, schedule, and ambiance are up to you.
We provide a beautiful, serene space with many amenities.
What is your creative passion? Contact Sheila for retreat planning guidance.