Elopement Weddings for 2 to 20
Coppertoppe hosts elopements and small weddings with up to 25 guests year-round. Ceremonies can be outdoors in season or in our elegant dining room. We decorate for your theme or colors. Elopement packages with two-nights of lodging include everything for the ceremony, color-coordinated and arranged according to your preferences. See our Elopement Promotion for current deals. Larger weddings are hosted with white cathedral style tents and rentals. Sheila is a Justice of the Peace (JP) and a wedding planner. To learn more about weddings at Coppertoppe, contact Sheila at 603-744-3636 or sheila@coppertoppe.com.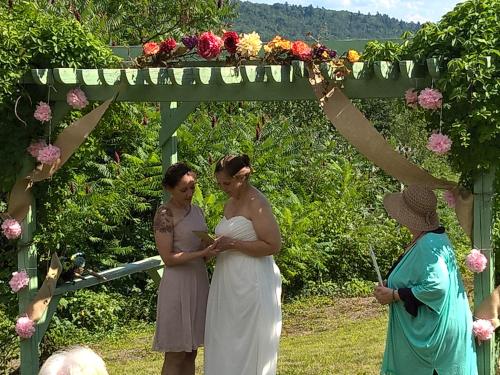 Congratulations on your happy decision, and thank you for your interest in Coppertoppe for your intimate celebration of love and commitment. We would be honored to host your most special event!
We approach marriage ceremonies with open doors and open hearts. Love is love is love. Everyone is welcome. Pets are welcome. Coppertoppe is set on 15 acres of woodlands overlooking pristine Newfound Lake in central New Hampshire. We only host one event at a time so you have privacy and control.

Since the first season of marriage equality in MA when Sheila walked Noel down the aisle, we have supported the right to marry who you love. We hosted one of the first LGBTQ+ weddings in New Hampshire (they declined photos as it was still scary). Since then, others have shared pictures.

Although the house only has four lodging spaces, how many it sleeps depends on how much you like each other. As of 2019, we only host weddings from 2 to 20. We can offer an inclusive package or let you handle the arrangements. We help make your planning easy and part of the fun. Email Sheila@ coppertoppe.com for a Wedding Worksheet and to arrange for a tour and consult.
Each wedding is unique, so you can have everything just the way you want. We work with you to design and set up the experience of a lifetime. Visit Coppertoppe Inn and Retreat Center on Facebook for frequent updates and personal photos posted by happy couples.