Elopement Weddings for 2 to 20 in 2019
How do we celebrate fifteen years in business?
By having our best summer ever, naturally. And then what? We retire! Yup. The house is on the market either as a private residence or a turn-key bed and breakfast. It's time to pass the torch and spend more time with family. After all the years with wonderful guests, cute children and pets, creative groups and glorious views, it will be hard to leave. We hope nice people who treasure the natural bounties of the Newfound Lake Region will find as much joy as we have.
We will continute to host elopements through Columbus Day, but no more big weddings at Coppertoppe.
Below is part of the real estate listing. It has pictures, a virtual tour, and drone footage. You can see MORE pictures on our Facebook page https://www.facebook.com/Coppertoppe-Inn-and-Retreat-Center-135533896468503/?ref=bookmarks and learn about the business on our website https://www.coppertoppe.com/en-us. We are having our first real estate open house on Sunday, July 28, 2019, Granite Group can schedule a private showing.
Rare Hebron offering. Coppertoppe Inn and Retreat Center (www.coppertoppe.com) is known as the perfect respite for family and friends. This large home offers great space for those looking to stretch out and enjoy life! Wake up to stunning views of Newfound Lake and the mountains from this private location on 15 acres with organic gardens, lawn, and pond. Love the lake? Splash and bask at the residents-only Hebron Town Beach with a pavilion, picnic tables, grills, and over 400 ft of sugar sand frontage on Pristine Newfound Lake! This eco-friendly, modern home offers a chef's kitchen with commercial appliances and sinks. The open-concept dining and living room is spacious and airy with glass sliders providing full views and access to a balcony. Separate walk-in pantry and cleaning closets have ample storage for year-round hospitality and holiday feasts. The first-floor two-room suite has ample space for a private family room. The second-floor enormous master suite has a walk-in closet and a second room that can be used as a closet, nursery or office. The master bath is one to behold with open-concept walk-in shower, whirlpool tub, two sinks and full views of the lake. The other two bedrooms have marble and tile bathrooms with walk-in showers, sliders to a balcony, and stunning views of the lake. The walk-out ground-floor is finished with picture windows and contains a library/family room, double office, private bonus room, 3/4 bath, and laundry/storage room. This unique property has been a bed and breakfast for 15 years but retains its homey comfort. If you want a new adventure with a seasonal income or a family compound vacation home, this is an opportunity to experience Newfound Lake at its best.
http://www.newfoundrealestate.com/showcaseproperty27 and here is the YouTube link to a virtual tour with the drone footage included. https://youtu.be/eUwt0WjtBQ0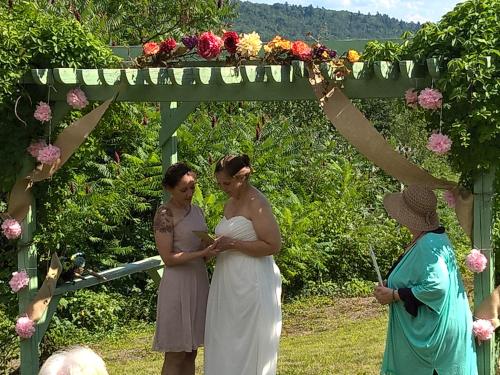 Congratulations on your happy decision, and thank you for your interest in Coppertoppe for your intimate celebration of love and commitment. We would be honored to host your most special event!
We approach marriage ceremonies with open doors and open hearts. Love is love is love. Everyone is welcome. Pets are welcome. Coppertoppe is set on 15 acres of woodlands overlooking pristine Newfound Lake in central New Hampshire. We only host one event at a time so you have privacy and control.

Since the first season of marriage equality in MA when Sheila walked Noel down the aisle, we have supported the right to marry who you love. We hosted one of the first LGBTQ+ weddings in New Hampshire (they declined photos as it was still scary). Since then, others have shared pictures.

Although the house only has four lodging spaces, how many it sleeps depends on how much you like each other. As of 2019, we only host weddings from 2 to 20. We can offer an inclusive package or let you handle the arrangements. We help make your planning easy and part of the fun. Email Sheila@ coppertoppe.com for a Wedding Worksheet and to arrange for a tour and consult.
Each wedding is unique, so you can have everything just the way you want. We work with you to design and set up the experience of a lifetime. Visit Coppertoppe Inn and Retreat Center on Facebook for frequent updates and personal photos posted by happy couples.