Weddings and Elopements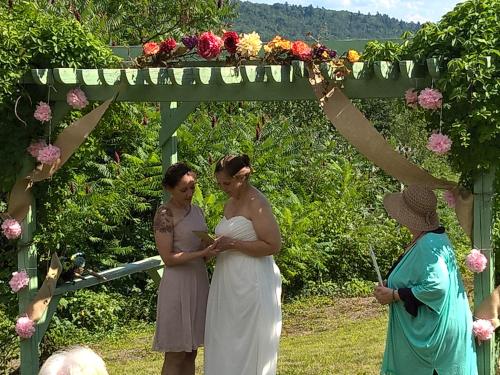 Congratulations on your happy decision, and thank you for your interest in Coppertoppe and Spirit of the Red Horse Farm for your celebration of love and commitment. We would be honored to host your most special event!
We approach weddings with open doors and open hearts. Love is love is love. Everyone is welcome. Pets are welcome. Coppertoppe is set on 15 acres of woodlands overlooking pristine Newfound Lake in central New Hampshire. The barn is three miles away on a classic New England horse farm on another hill. We only host one event at a time so you have privacy and control.

Since the first season of marriage equality in MA when Sheila walked Noel down the aisle, we have supported the right to marry who you love. We hosted one of the first LGBTQ+ weddings in New Hampshire (they declined photos as it was still scary). Since then, others have shared pictures.

Although the house only has four lodging spaces, how many it sleeps depends on how much you like each other. We host weddings from 2 to 120+ with a tent if needed. We also use our neighbors' barn, which is comfortable for up to 100. We can offer an inclusive package or let you handle the arrangements. Couples who use professional wedding planners get a discount on the venue fee.
Each wedding is unique and we only host one event at a time, so you can have everything just the way you want. We work with you and your team to design and set up the experience of a lifetime. We have added photos from 2017 weddings using the Coppertoppe garden and lawn for ceremonies and the barn for receptions. Visit Coppertoppe Inn and Retreat Center on Facebook for frequent updates and personal photos posted by happy couples.
Whether you want an elopement for two (see our promotion) or a garden wedding for 100+ with a tent or rustic barn wedding reception, your vision can be fulfilled with careful planning and experienced guidance. Wedding planner JP and stylist services are available or you can engage your own. Couples who work with professional wedding planners receive a special discount. We help make your planning easy and part of the fun. Email Sheila@ coppertoppe.com for a Wedding Worksheet and to arrange for a tour and consult.
Coppertoppe is the perfect setting for your ceremony and reception, with acres of gardens, fields and woodlands, a pond and lake views. The lawn and arbor overlooking Newfound Lake and the surrounding mountains provide an abundance of scenic views, birdsong, and flowers. What's your color theme?
Spirit of the Red Horse Farm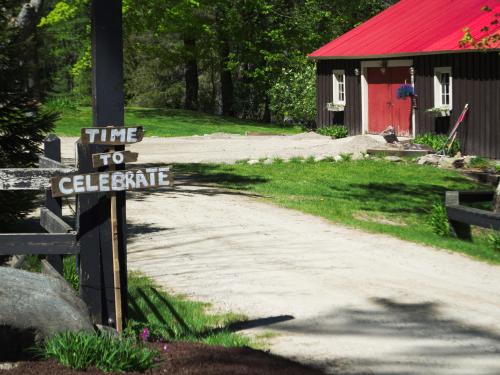 In 2017 we partnered with Cindy and Stan to use their historic barn at Spirit of the Red Horse Farm just three miles from Coppertoppe. Within a month of revealing the barn, three weddings were booked. Photos have been added to our album and mixed in with garden weddings, tent or barn receptions, and elopements. Almost anything is possible with advance planning. Your wedding, your day, your way and we will help with the details.
Nature is our best decorator!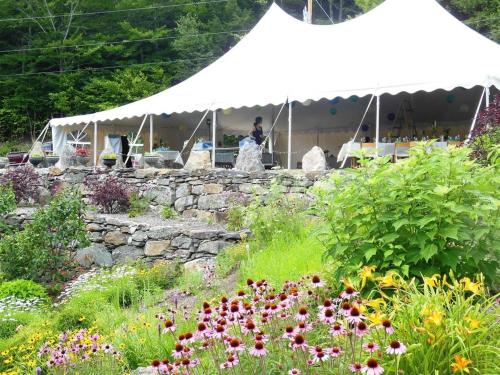 At Coppertoppe, we only host one big event at a time. In order to guarantee exclusive use of the facility, you must reserve the whole house for lodging for at least one night November through May and two nights June through October. You will have our undivided attention and exclusive use of the property.

Reception hours are negotiable. Our facility charge may include Justice of the Peace, pre-wedding or civil ceremony counseling, on-site ceremony, rehearsal, a post-wedding brunch, valet service, use of the grounds and professional coordination. Contact sheila@coppertoppe.com for a Wedding Worksheet and helpful handouts or to schedule a tour and conversation.

Ask for an invite to a folder of wedding pictures for your planned number of guests. We have MANY photos.

Our lavish lawn, arbor by the pond and garden patio, are natural settings for a picture-perfect ceremony. Our outdoor party space is ideal for dancing and lounging. Our spacious dining room with a view comfortably seats up to 24 diners with elegant settings.

We are available by appointment to give you a tour of Coppertoppe and discuss reception details and menu options. We have albums of wedding pictures and can invite you to an online album to view more. Please contact Sheila at 603-744-3636 or sheila@coppertoppe.com to request more information or to schedule an appointment. If you send a request for pricing, the answer will be that we cannot give a quote until we know what you want. That is what the worksheet does for you. How many guests do you expect? How many are in your wedding party? What services do you want us to handle? What date or season do you want? Or as we like to say, how can we thrill you if we don't know what you want?
We garden for your wedding theme colors.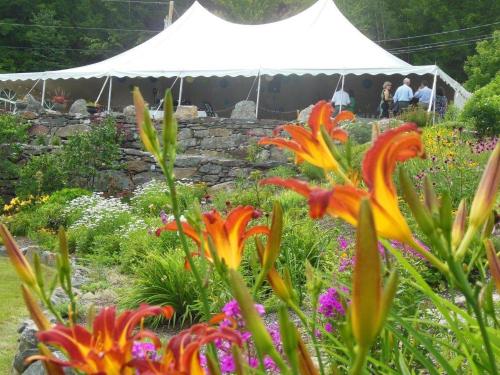 The only things we cannot do for you are to find a partner (you've got that covered) and get a marriage license in New Hampshire.
>Learn more
! We are a welcoming, rainbow network, color-blind, child and pet-friendly facility. We nurture and support positivity!
As hosts and event coordinators (and Sheila is a Justice of the Peace), we will work with you every step of the way to help make your day as magical as you envision. We look forward to being of service. We love celebrations!
HONEYMOONS and EXTENDING THE EXPERIENCE:
Many couples want that special alone, private, cocoon time in which to relax and enjoy their new status. A luxury bed and breakfast in the White Mountains overlooking a pristine lake is a good choice for making memories. At Coppertoppe we appreciate and pamper all our guests, as we always have. Gender, race, creed, species or country of origin is not relevant to our love or care. We welcome humans and pets with equal enthusiasm. Our honeymoon packages include lodging, breakfasts, snacks, beverages, flowers, treats (chocolate or whatever they like) and concierge service for outdoor activities, massages, Reiki, dog training, art classes or any resources available. Guests have access to a huge library of books, movies, music, games, puzzles, and toys. Coppertoppe is convenient to big-name musical events, community theatres, farm markets, festivals, fairs, boating, golfing, skiing and much more. Only a couple of hours from Boston, but a million miles from city life, Coppertoppe and the Newfound Lake region are a wonderful option for serene, romantic honeymoons.
Sincerely,
Sheila Oranch (JP) & Bill Powers, Innkeepers
Contact us to learn about our eco-friendly initiatives.
For more local wedding resources, visit Lakes Region Bride.