How do we celebrate fifteen years in business?
By having our best summer ever, naturally. And then what? We retire! Yup. The house is on the market either as a private residence or a turn-key bed and breakfast. It's time to pass the torch and spend more time with family. After all the years with wonderful guests, cute children and pets, creative groups and glorious views, it will be hard to leave. We hope nice people who treasure the natural bounties of the Newfound Lake Region will find as much joy as we have.
Below is part of the real estate listing. It has pictures, a virtual tour, and drone footage. You can see MORE pictures on our Facebook page https://www.facebook.com/Coppertoppe-Inn-and-Retreat-Center-135533896468503/?ref=bookmarks and learn about the business on our website https://www.coppertoppe.com/en-us. We are having our first real estate open house on Sunday, July 28, 2019, Granite Group can schedule a private showing.
Rare Hebron offering. Coppertoppe Inn and Retreat Center (www.coppertoppe.com) is known as the perfect respite for family and friends. This large home offers great space for those looking to stretch out and enjoy life! Wake up to stunning views of Newfound Lake and the mountains from this private location on 15 acres with organic gardens, lawn, and pond. Love the lake? Splash and bask at the residents-only Hebron Town Beach with a pavilion, picnic tables, grills, and over 400 ft of sugar sand frontage on Pristine Newfound Lake! This eco-friendly, modern home offers a chef's kitchen with commercial appliances and sinks. The open-concept dining and living room is spacious and airy with glass sliders providing full views and access to a balcony. Separate walk-in pantry and cleaning closets have ample storage for year-round hospitality and holiday feasts. The first-floor two-room suite has ample space for a private family room. The second-floor enormous master suite has a walk-in closet and a second room that can be used as a closet, nursery or office. The master bath is one to behold with open-concept walk-in shower, whirlpool tub, two sinks and full views of the lake. The other two bedrooms have marble and tile bathrooms with walk-in showers, sliders to a balcony, and stunning views of the lake. The walk-out ground-floor is finished with picture windows and contains a library/family room, double office, private bonus room, 3/4 bath, and laundry/storage room. This unique property has been a bed and breakfast for 15 years but retains its homey comfort. If you want a new adventure with a seasonal income or a family compound vacation home, this is an opportunity to experience Newfound Lake at its best.
http://www.newfoundrealestate.com/showcaseproperty27 and here is the YouTube link to a virtual tour with the drone footage included. https://youtu.be/eUwt0WjtBQ0
Your Hosts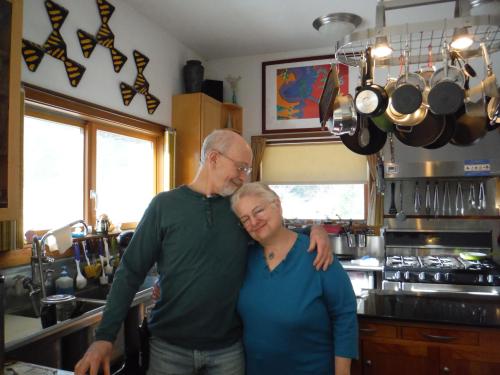 Our mission is to provide guests with a serene, luxurious retreat where they feel pampered and appreciated. We create a custom experience for each guest with a focus on their preferences and comfort. Within our small bubble of space and time, we pamper each person with love, respect, and active listening. Coppertoppe welcomes children, pets and all guests with love and attention. Weddings, elopements, retreat groups, birthdays, anniversaries and family reunions are hosted with joy.

We are your hosts, Bill Powers and Sheila Oranch (spouses and business partners) who fell in love with Hebron and Newfound Lake.

We are proud of our fabulous grandchildren and great-grandchildren. We are long-time, dedicated environmentalists and gardeners, and we are active in the community. We love to host, cook and help people relax and enjoy themselves. What is fun for you? Let us know your interests and we will strive to arrange the activities or lessons or opportunities that you seek. We may not do it all, but we probably know who does what you want.
We love kids and dogs
We garden without pesticides, and happily use our own herbs and vegetables (some herbs are grown indoors all year). We are members of the NHLRA Sustainable Lodging Program (Sheila is on the steering committee), the Newfound Lake Region Association, and participate in ?green? initiatives. We recycle, re-use and compost. Nothing is wasted, and our motto is, ?there should be no such thing as garbage.? See our environmental report for more specifics.

We welcome children of all ages, dogs and most pets. The birds and wildlife can stay outside for careful observing. We see many critters in the fields and gardens, and birds are abundant in our naturalized, organic garden. Our two ponds are home to many species of frogs, toads, slamanders, newts and maybe a family of crayfish. Birders are in heaven around Newfound Lake, and local Audubon centers are happy for contributions to their lists of birds observed in the region.

Coppertoppe has become a popular retreat for quilters, writers, artists, musicians (ask about our recording studio), healers, yoga practitioners and church groups. We support and nurture creative and wellness activities. We enjoy having a house full of happy youths and leaders working for a better world, and their joyful noise is encouraging and uplifting.We share many interests, F/SF literature and media, history, sociology, poetry, music, art and more?which is why we have thousands of books! We also have different specialties.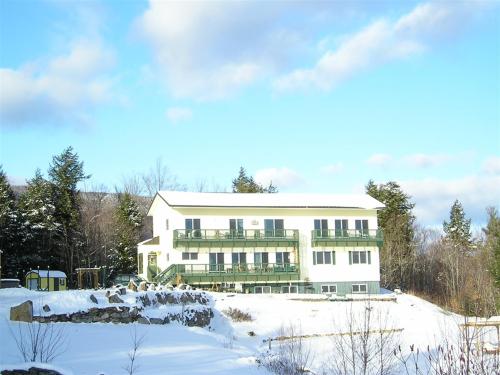 Bill is technical and happily spends hours solving computer problems. As a former quality engineer, Juran trainer, SAP basis administrator and systems architect, Bill can explain almost anything to almost anyone. He is also very patient, which is good for Sheila.

Sheila is happy designing a garden, developing a speech for Toastmasters, coaching employees or entrepreneurs, writing articles, or working on new recipes and tips.

It is fun to hear about our guests? adventures and to learn a bit about their occupations and dreams. The best times are when diverse guests come together and find they have shared acquaintances or interests.

We bring to the Coppertoppe experience our adventures in hospitality, teaching, adult education, seminar and convention operation, public speaking, life coaching, marketing, computer user support, network training and web design. Life is interesting and challenging.Coppertoppe earned its name because of its copper roof. The house was built in 1999 by a wealthy couple who were a restauranteur and an artist. It has a southern exposure to optimize passive solar energy use and so every room has a delightful lake view. When we first saw the house in 2003, we fell in love with the view, the open space, high ceilings, woodwork, marble bathrooms and unusual design.

We?ve done extensive work to bring the landscape and exterior up to a comparable level, and to make the house warm and comfortable. We benefit greatly from the suggestions of our guests and the skilled teams who help with the house, garden and landscape. We will continue to improve the property and our ability to make every visit satisfying and memorable.