It's All About the Lake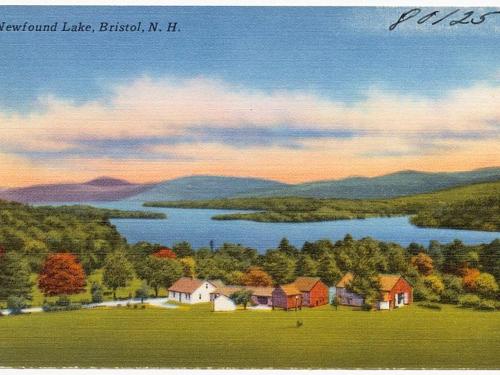 Coppertoppe is on a ridge of Tenny Mountain overlooking Newfound Lake, one of the cleanest lakes in the world and the fourth largest lake in New Hampshire. The Newfound Lake Region Association and many volunteers help protect the lake and watershed, and provide education and science opportunities, pontoon boat eco-tours and speakers.Our town beach, town forest, state parks, waterfalls, Sculptured Rocks, hiking trails, walking and bicycle trails, fishing, bird watching, and many other free or cheap activities mean you don?t have to sit still if you don?t want to. You can rent a canoe or kayak at Paradise Point Audubon Center or a weekly motor boat at West Shore Marine. Within short drives, you can also enjoy rock climbing in Rumney, and many hiking trails, white water or rafting experiences. Fishing and hunting are available in season. Check state regulations when planning your trip.  
The White Mountains
The Museum of the White Mountains opened to the public on February 23, 2013. It is located at 34 Highland Street in Plymouth, New Hampshire, on the campus of Plymouth State University. The public is invited to visit and enjoy the new space and inaugural exhibition-Passing Through: The Allure of the White Mountains. Exhibits and activities will include art, sculpture, miniatures, models, video (7 minutes), and an interactive computer kiosk for personal downloads to the blog.Museum hours are: Tuesday, Thursday, and Friday 10 a.m. to 5 p.m.; Wednesday 10 a.m. to 7 p.m.; Saturday and Sunday noon to 5 p.m. The museum is closed Mondays and holidays (and Tuesdays in the summer.) Please call ahead in cases of inclement weather, (603) 535-3210. There is no charge for admission.
Birding and Bird Watching
Located on the shores of spectacular Newfound Lake, the Newfound Audubon Center includes: Paradise Point Wildlife Sanctuary, Hebron Marsh Wildlife Sanctuary-Ash Cottage and Bear Mountain Wildlife Sanctuary. We collated a Newfound Lake vicinity bird list with a neighbor?s life list and you can add your sightings as well. We have another neighbor who assembled his photographs into a DVD that has been verified and matched with bird calls by National Audubon. These resources are available at Coppertoppe.
Winter Sports in New Hampshire
Coppertoppe is near Ragged Mountain, Waterville Valley, Loon Mountain, Gunstock, and not too far from all the others. Check our Packages and Specials each winter to see who has partnered with us.

Hebron is home to Hardy Country Snowmobile Club with access to more than 100 miles of snowmobile trails. Join us monthly in winter for the all-you-can-eat fund-raiser dinners. Yum! Newfound Lake is a fun place to snowmobile and is also popular for ice fishing. There are also miles of snowshoe trails and cross-country hikes available on public lands and friendly properties (by referral).
Golfing in New Hampshire
When the ice and snow are too thin, it?s time for golf. Central New Hampshire is home to many fine golf courses, and a near neighbor is White Mountain Country Club, which is open to the public. Just about 20 minutes away, it is easy to get to and fun to play. It is an interesting contrast to Ragged Mountain, only 21.3 miles away, so in one weekend you can play two terrains.
Wine and Food in New Hampshire
The Newfound Lake region is home to farms, orchards, and a new vineyard. Check out Haunting Whisper Vineyards in Danbury, NH. We can build a getaway for you around wine and food, incorporating wine tasting, fudge making, nutrition and artisanal baking, traditional baked goods and sandwiches to go, apple or berry picking, tours of a deer farm, teaching gardens and more. At Coppertoppe, you can schedule a gourmet cooking class for the cuisine of your choice and incorporate the beverages and desserts you?ve harvested. To learn about the fabulous products available, visit the NH Made website.
Music at Coppertoppe
Our Library is acoustically designed to be used as a recording studio. We recorded a demo album with Lindy Hop Heaven (available on request to musicians and producers) to prove the concept. Packages include lodging and meals with studio space included. Engineer time is additional depending on your requirements.
We also support musicians and music as part of our tikkun olam/contributing to completion of creation. Among our affiliates is Henry Blaukopf, Vice President, Valley Entertainment, Windham Hill/Heart of Space Records, Audioquest ? Sledgehammer blues in New York, NY. For new releases/information, reach Henry at henryharp@nyc.rr.com or
www.twowellread.blogspot.com
">visit the website.
Musical guests at Coppertoppe have included:
Peter Davis and Lindy Hop Heaven With Peter at the helm, ?Lindy Hop Heaven? has become one of the nation?s most requested swing dance bands. The band features Peter on clarinet, alto sax, piano and vocals, the renowned George Reed on drums, Peter Ecklund on trumpet, Dave Davies on trombone, guitar and vocals, Tom Mitchell on guitar and vocals and Harry Aceto on bass. They play swing dances, festivals and music and dance camps nationwide, and are heard annually at Swing Out New Hampshire dance camp here in Hebron over Labor Day weekend, Beantown Lindy Hop Summer Camp and Western and Swing Week at Ashokan.
Laurel Masse
 ( ?Ah, music! A magic beyond all?? -Dumbledore)
http://www.twowellread.blogspot.com
">
www.twowellread.blogspot.com
. Read her blogs:
http://www.twowellread.blogspot.com
">
www.twowellread.blogspot.com
>
www.twowellread.blogspot.com
History and Genealogy in New Hampshire
The history of New Hampshire is the history of America. Visit New Hampshire if you are interested in early American culture, tracing your family roots in New England or learning about the environmental and social factors that still influence American culture. Every town around here has a historical society, and some, like the Hebron Historical Society, have well-documented publications on the history and genealogy of early settlers of the Newfound Lake region.

The town of Bristol, NH is an original mill town and there is a historic walking tour of Bristol spanning a century of early Americana.