Dining Room
Our dining room is the center of guest activity, with great views and access to the balcony and outside stairs. A full breakfast, with at least two specialties, is served daily. It?s also a favorite spot for snack lovers with complimentary hot and cold beverages, fruit, cookies and other goodies. We offer a choice of breakfast times as well as the option of having a tray brought to your room.

Snacks and beverages are available any time. Enjoy your fresh-roasted coffee or flavorful tea in a hand-thrown Deneen Pottery mug or sip your juice in a matching cup. You can collect all the colors if you get here before each limited edition sells out.
Living Room
Our open-concept living room flows from the dining area and allows guests who are not eating to continue socializing or put their feet up and enjoy the views outside or the display cabinet of antique glass and china.
Multi-use Library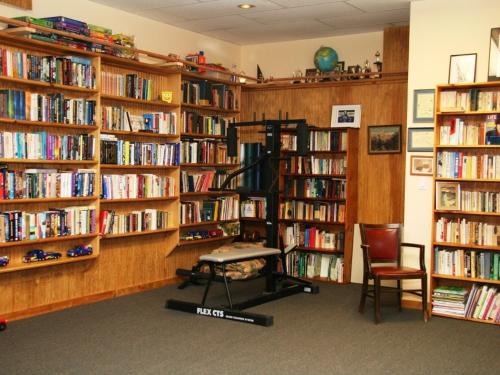 On the Garden level, a large library and gallery contain books, videos, music and games. Exercise equipment, Yoga and Tai Chi space and appropriate videos are available for guests? use. The Library also contains a computer desk and gets good WiFi signal. The TV has outlets for video games and audio equipment. The Library was designed to be acoustically appropriate for recording music, which also makes it a great sound-proof play room for kids or family games. We have toys, games and movies for all ages, including tots.

Outside we have a half-mile of graded gravel driveway that in itself provides a brisk walking workout, and over time we will develop trails and paths. We are within hiking distance of the Paradise Point Audubon center and scenic George Road. Our pond is home to many creatures and may soon become a real fishing hole. Contact us for information about in-house spa services, classes and activities.

The ground-floor library with ten-foot ceilings provides a large open area surrounded by bookshelves (filled with books, magazines, games and puzzles), Yoga mats, TV/VCR, CD/DVD players, exercise videos and many music choices. For smaller guests, toys appropriate for all ages are available.