About Coppertoppe Inn & Retreat Center
Coppertoppe is a four-room/suite bed and breakfast in the historic village of Hebron in central New Hampshire. It is a modern home with marble bathrooms, sliders and picture windows with views of Newfound Lake and the White Mountains from every room.
The house is perched on a ridge of Tenney Mountain with 15 acres of organic gardens and woodlands, a clean pond, and an expansive lawn. The property is a Certified Wildlife Habitat, organically managed. Surrounding properties are conservation land and private lands cherished as well. Birders, gardeners, and wildlife observers have much to enjoy here. The Newfound Lake Region has many opportunities for outdoor recreation and relaxation. It is basically Nature's Playground with nice people providing comforts and conveniences.
Coppertoppe offers comfortable elegance with modern convenience in a timeless setting. Each room/suite has a private bathroom, free Wi-Fi/Ethernet/cable, a fridge, towel warmer and the many amenities that earned us three diamonds on AAA and five stars on TripAdvisor.
Breakfast is served buffet-style, with snacks and beverages available at any time. We ask questions in advance so we can plan the menu to delight each guest. Tell us your favorites! Play "stump the cook" with dishes you can't usually get in restaurants. Join us to harvest fresh herbs from the garden. Sign up in advance for a cooking class during your stay. Children are welcome to participate. We love feeding people and sharing our recipes and tips.
Coppertoppe is pet-friendly and also specializes in caring for guests with allergies. Sound strange? It's all about the cleaning system. Whether you are allergic or sensitive to a food or an environmental allergen, we will accommodate you. We care. Call 603-744-3636 or email sheila@coppertoppe.com to talk with Sheila about your particular needs.
Good news! Tenney Mountain Ski Resort has opened under new management. Michael and Kim have worked hard over the last few years to restore and upgrade the mountain, clubhouse, and trails. We look forward to a dynamic winter ski and sports season.
Although we are planning for our eventual retirement, Coppertoppe is accepting reservations for 2020. We are booking small weddings (2 to 20), reunions, personal and small-group retreats. We will also be offering cooking classes and occasional creative/crafty seminars open to the public.
We do plan to spend more time with family. For example, we will be taking off the week of Thanksgiving, but return to welcome guests that Friday. From November through May, we will accept advance reservations. Extended stays get special rates. Call us directly at 603-744-3636 to get the best deals. Visit our Promotions for a sampling of special packages or create your own.
We appreciate our wonderful guests, cute children and pets, creative groups and glorious views. We hope nice people who treasure the natural bounties of the Newfound Lake Region will find as much joy here as we do.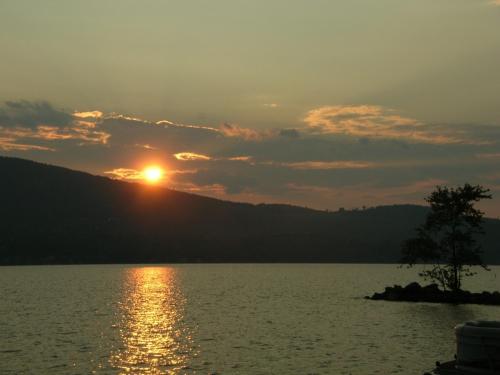 Ahhh! What could be more refreshing than a relaxing getaway at a clean, quiet lake in the White Mountains of New Hampshire? Discover luxury lodging and retreat facilities in historic Hebron, NH overlooking pristine Newfound Lake, the hidden gem of the Lakes Region of central New Hampshire. This special lake is one of the cleanest lakes in the world and is the deepest in New Hampshire. Learn more from
>Newfound Lake Region Association.
Coppertoppe is certified with the NH Green Hospitality program of DES.
We are proud to continue our tradition of eco-friendly and environmentally responsible sustainable lodging practices. Contact us to learn more.
Coppertoppe is a modern home with fun decor, modern tech, lush house plants, art, books, movies and comfy furniture. It is a warm, friendly place that comfortably sleeps four parties in two suites and two spacious rooms. Amethyst Room is "Deluxe King Room" and has a balcony. Garnet Suite is "King Suite with Balcony" and has the huge, green bathroom. Jade Suite is called "Suite with Lake View" and is on the first floor. Turquoise Room is called "King Room with Balcony" and can be set as twins.
Your hosts take pride in delighting guests.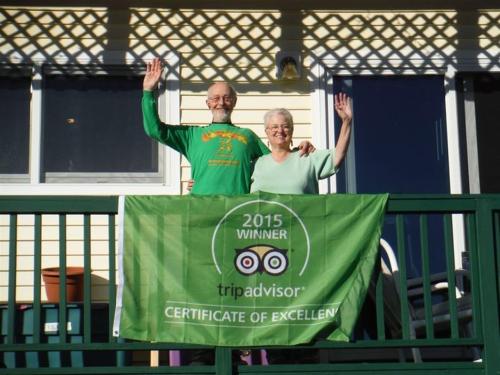 Watch our video tour to see more about our rooms, public areas and gardens as we share some of the details about Coppertoppe.
Enjoy delicious breakfasts
prepared just for you, fair trade coffee from a local roaster, spectacular views, spacious guest rooms with modern amenities, and friendly common areas, all in a serene, natural setting. We often update and improve our property and amenities. As well as fiber, foam and hypo-allergenic pillows, our "pillow library" proudly features fluffy down pillows from DownLite, a high-end provider of down pillows and comforters.
Children and pets are warmly welcomed.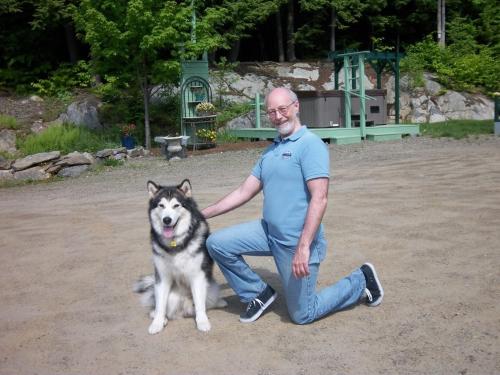 Coppertoppe is child-friendly, family-friendly,
pet-friendly
(yes. we like big dogs) AND we cater to people with allergies. Read more on this site about how we balance romantic getaways with family reunions, honeymoons, and group retreats.
Young, hip and tech savvy? We've got your WiFi, broadband, printer and lots of good coffee. Business owners who cannot be off the grid, professionals or family members who need to stay in touch can stay connected--FREE of course. You decide whether to unplug while you relax.
Play, explore, experience
. Coppertoppe is near many adventure activities, golf, tennis, skiing, boating, fishing, swimming, beach lounging, hiking, climbing, horseback riding, shopping, antiquing, craft fairs, flea markets, farmers markets, concerts, music festivals, holiday events and more. Visit our Things To Do page for more ideas.
After a day of fun, soak in the spa, cuddle up for a nap, or simply relax and enjoy the view. After you unwind, spruce up for some fine dining or flip-flop down to a casual pub.
If you are seeking a beautiful place for your wedding, we can help. If you are planning a family reunion, group or personal retreat, workshop or seminar, this home-away-from-home may be just the right spot for you.
Be sure to view our Specials and Packages page for opportunities to experience our warm hospitality with extras. Or invent your own personal deal with an Innkeeper Special. Contact Sheila to discuss the possibilities.
Nearby Activities, Shows and Attractions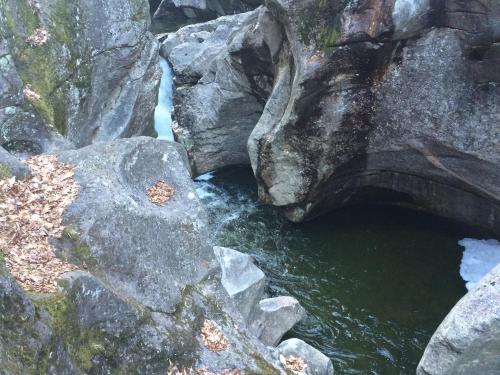 live shows and events
kayak, canoe and boat rentals
golf tee time reservations
horseback riding reservations
fishing or hunting
restaurant recommendations
antique safari day trips or packages
nature/science lake cruises in season
Sculptured Rocks state geological area
car, airplane or helicopter rentals
airport, train or bus pick-up options
outdoor adventures, guided hikes, snowshoe, and Nature tours
ski, canoe, kayak or sail